The update is temporarily delayed until droopy returns. Thanks for your patience! It WILL happen ASAP. Stay tuned!

Dismiss Notice
NavalClash
Hey all!

We've recently updated the server to add 1.13 client support. The issue with this is that 1.12 resource packs are NOT compatible with 1.13!

We have decided to use this as an opportunity to allow you, the community, to help us update the resource pack!

RULES:
- Your new texturepack must be 1.13 compatible
- You may only ADD textures. You may NOT retexture items or blocks that already have a texture.
- You MAY texture blocks that are traditionally illegal, such as diorite and other new 1.8 and 1.13 blocks. Eventually they will be legal on vehicles.
- However, you may NOT retexture any block that already has a texture, including nature blocks that will always be illegal (such as sand, grass, etc)
- You may ADD names to the lang file, but you are not allowed to delete any item/block names from the lang file.
- You MAY texture vanilla boats, the GUI, food items, and any other block that does not currently have a texturepack.
- All submissions must be DMed to me on discord
-...
This patch contains a
shiny
new command, as well as a number of minor bugfixes for shipyard.
Playerdata repository cleaner updated to automatically resolve invalid world errors in both open indexes and private playerdata (the "ERROR: Unknown error. Report this to iiz if you can, please." will now fix itself).
A ./yard renumber ID newID command has been added from a suggestion by Ggolem1. I think it's the perfect solution for people unhappy with their plot numbers, given that early-on I decided that I never wanted the plugin to reorganize them automatically, in case it just ended up confusing people.
The /rank command now gives you your correct rank immediately, there's no need to spam it anymore.
Public shipyard signs without names no longer ping the authentication servers for invalid players.
Extra development and admin commands added.
Shipyard code has been reorganized a teeny bit (always a victory in my book)....
All Bases as long as they have an above-ground base are now able to purchase Vehicle Spawners.
(Tank1, Ship1-Ship5, Hangar1, Hangar2)

All spawners cost $50,000.

Additionally, each vehicle spawned on a non-spawn spawner will cost an additional $8000. This occurs each time you click the sign, whether you have a vehicle selected or not. No refunds will be given for accidental clicks!

Only I am able to give you these special spawners. If you'd like one contact me on discord or when I'm online and we'll get to it.

If your spawner gets bombed there will be no free replacements - you WILL need to pay for it again!

If people are found abusing this system it will be removed.
Hey all!
We've made some mistakes. Today we fix them.
Underlined features are things I want to emphasize!
We want you to be happy. So we've listened, and here's what we've done with the latest update.
-
Base Spawners:
You can now buy vehicle spawners for bases.
http://navalclash.net/Forum/threads/base-spawners.1227/
-
Tutorial:
New players now spawn in a basic tutorial room. Please help them! Anyone can access the room with
/warp tutorial.
-
MAP CHANGE:
Added back the most requested map, the giant worldmap. This will be the LAST map reset for a very very longtime, as it is huge and super popular.
-
Map RENDER:
A clean render of the new map can be found here:
http://play.navalclash.net
-
PAYDAYS:
are back.
-
Jobs:
Supplement paydays, type
/warp Jobs.
Maximum 2 at a time.
-
SPAWN:
The good one. With the airfield built in.
-...​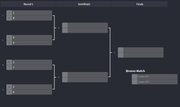 Welcome to the First Official NavalClash Brawl!
This will be a tournament hosted every 1-2 months.

8 Teams will compete for the ultimate victory!

Prizes
$1,000,000 prize pot (divided equally amongst team members)
Special ingame perms, chat, suffix, and name colour until next tournament
Special Discord Rank until next tournament
Bragging rights
Recognition as the first winners of the tournament

Rules
Each team will consist of 3-6 players.
A square arena has been built.
Each team will have 3 ship2s (that they built). They CAN be different.
Max 1 sub per team.
Ships must conform to the standards of building and not be overly flat or square as per MY judgement.
In the battle world normal chat will be disabled, as will pms. So you will need to use radio and crew chat to communicate with your teams.
If a ship on your team sinks the crew will be allowed to try and swim to another vehicle. However no items including food will be allowed into the arena.
If a player...​
Hey all!
AcidIsland will be replacing the inactive skyblock server.
It's the same as skyblock, except there are a few key differences...
Acid hurts, use armor or potions to protect! Set your own sea-level.
Rain is acid too! Decide how much damage.
Acid hurts monsters, so players can make different grinders or traps.
Acid cannot be used to make clean stone, but it can make cobblestone fine. (This stops players paving the ocean).
A sponge can be won from a challenge. Sponges soak up acid and make expanding the island easier
Island level ranking system - based on block values and blocks below sea-level
Players can visit other islands by boat and boats are much more safe than normal - they do not break and exiting them does not dunk players in acid (most of the time).
Two AcidIsland starter islands to choose from.
Tips:
If you haven't realized already - water is acid - be careful!
Mobs burn in acid too!
Acid and lava can make...
Hey all,
The faction plugin was very buggy, was getting tons of complaints. It had to be changed, so I decided to upgrade it.

Normal faction chat channels now work with discord so you can use ally chat, fac chat, truce chat etc... with your faction titles and not have to worry about being spied on. (/f chat channel)

/f map: got a huge upgrade, you can actually claim land from the map
/f banner: costs 10k, gives you a banner that, when placed in enemy land, grants your faction boosts in that land as well as a way to warp to it for 3 minutes.
/f coords: broadcasts your coordinates to your faction
/f ban, /f unban, /f banlist: Ban/unban people from your fac
/f lowpower: Shows members with low power
/f perms: Opens f perms GUI
/f near: see nearby fac members within 200 blocks
/f announce: announce a msg to your fac
/f logins: toggle fac login notifications
/f warp, /f setwarp: fac warps. max 3
/f rules, /f rules add: View and add rules for your faction

Banner demonstration....​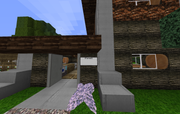 Hey all! As many of you know, unfortunately Drugs didn't work out. There was a nasty duplication bug built into the plugin that allowed people to get free money. Furthermore, farms expanded exponentially and people were getting way too rich too fast anyway.

Some of you have helped me to devise a new system - Cargo Routes!

Cargo routes are simple - delivery of items between outposts for money. You buy cargo cheap at one outpost and sell it for more at the other.

Each cargo route has a cooldown - you can only buy so much cargo from each route every 45 minutes.

Additionally, water is slightly toxic now, so if you try swimming instead of sailing a ship or cargoplane because it's faster you WILL die and lose any cargo you may have.

I have also increased the speed of ships and subs slightly.

I have also added a script that prevents anyone with cargo in their inventory from teleporting anywhere, to prevent abuse. You must sail your cargo between outposts!

I will be lowering...
Welcome to the Island Update.
There are lots of changes, and before you pronounce to the world that the update is "bugged or broken", read this.

Ranks/ Denoobing
Everything is reset except for rankpoints. There are 29 ranks. If your tag reads [E-1 SR], you are NOT denoobed. Proceed through the portal and click the denoob sign it teleports you to when you first join. If you skip reading the rules and just go to spawn, walk around spawn until you find the dockmasters office to get denoobed. After denoobing, keep typing /rank to get to your new rank's equivalent for your rankpoints.

Shipyard issues:
After you have denoobed, if you are having shipyard issues, (can't claim any plots), dm sidewalk on discord. You probably disobeyed us when we said stay out of shipyard and your file may have bugged. I can help you to manually fix it when we are both online. If you just can't build in your plot wait until a staffmember gets on to help you with the region.

Chat...​
Hey all! I got in contact with droopy tonight and he is very busy with work, wishes you well, and granted me his blessing to update the server.

The Island update will be release Wednesday April 25th (tomorrow) at 5:00pm EST. That gives me enough time to work out any bugs and write up some tutorials.

I'll add images to this post later, but for now here is everything you need to know about the update!

- Chat Channels: Navigate the chat with /ch switch (channel) and /ch join (channel). Global chat can be seen by all in global, faction can be seen by all in your faction, in the faction channel only.

- Discord Link: Type /discord link ingame and send the code you receive to the NavalClash Bot. Your discord account will automatically be linked; you will receive a verified file and be able to use the #global channel.

- MONEY: Money is a lot more valuable with the update. Free weapons are fixed so no cancer ships. Be wise. Paydays are removed - you start with $20,000. Earn money by...