Droopystarfish is back! ! ! !
NavalClash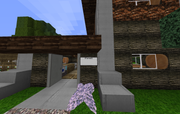 Hey all! As many of you know, unfortunately Drugs didn't work out. There was a nasty duplication bug built into the plugin that allowed people to get free money. Furthermore, farms expanded exponentially and people were getting way too rich too fast anyway.

Some of you have helped me to devise a new system - Cargo Routes!

Cargo routes are simple - delivery of items between outposts for money. You buy cargo cheap at one outpost and sell it for more at the other.

Each cargo route has a cooldown - you can only buy so much cargo from each route every 45 minutes.

Additionally, water is slightly toxic now, so if you try swimming instead of sailing a ship or cargoplane because it's faster you WILL die and lose any cargo you may have.

I have also increased the speed of ships and subs slightly.

I have also added a script that prevents anyone with cargo in their inventory from teleporting anywhere, to prevent abuse. You must sail your cargo between outposts!

I will be lowering...
Welcome to the Island Update.
There are lots of changes, and before you pronounce to the world that the update is "bugged or broken", read this.

Ranks/ Denoobing
Everything is reset except for rankpoints. There are 29 ranks. If your tag reads [E-1 SR], you are NOT denoobed. Proceed through the portal and click the denoob sign it teleports you to when you first join. If you skip reading the rules and just go to spawn, walk around spawn until you find the dockmasters office to get denoobed. After denoobing, keep typing /rank to get to your new rank's equivalent for your rankpoints.

Shipyard issues:
After you have denoobed, if you are having shipyard issues, (can't claim any plots), dm sidewalk on discord. You probably disobeyed us when we said stay out of shipyard and your file may have bugged. I can help you to manually fix it when we are both online. If you just can't build in your plot wait until a staffmember gets on to help you with the region.

Chat...​
Hey all! I got in contact with droopy tonight and he is very busy with work, wishes you well, and granted me his blessing to update the server.

The Island update will be release Wednesday April 25th (tomorrow) at 5:00pm EST. That gives me enough time to work out any bugs and write up some tutorials.

I'll add images to this post later, but for now here is everything you need to know about the update!

- Chat Channels: Navigate the chat with /ch switch (channel) and /ch join (channel). Global chat can be seen by all in global, faction can be seen by all in your faction, in the faction channel only.

- Discord Link: Type /discord link ingame and send the code you receive to the NavalClash Bot. Your discord account will automatically be linked; you will receive a verified file and be able to use the #global channel.

- MONEY: Money is a lot more valuable with the update. Free weapons are fixed so no cancer ships. Be wise. Paydays are removed - you start with $20,000. Earn money by...
This thread will showcase why it is illegal to advertise IS on NC. I'll answer any questions you may have; but no further explanation than this post should be needed. Anyone else who advertises for this scum will be banned from NavalClash. Thanks.
Summary of NC history w/proof
May 7, 2017
After running out of funds, sidewalk posts on mc-market looking for someone to host his harry potter server and help him revive it.
https://www.mc-market.org/threads/168352/
May 12, 2017
After months of carefully recreating nbz from bits and pieces of code found online (which has been since taken down), Sidewalk posted to mc-market looking for a host for a harry potter server. This is the day he got an answer from someone named Droopystarfish.
https://postimg.cc/image/qc7r2mlx1/
I told him I had a BETTER server ready. I carefully vetted him to be sure he would be a good co-owner....​
With the update coming out, I'd like to make it absolutely clear that there has always been a rule against toxic behaviour.

People don't get away with on other servers a quarter of what you children get away with on navalclash.

So let's set some ground rules, or rather, reiterate the rules that are and always have been in place.

In navalclash, as in all aspects of life, be FRIENDLY and REASONABLE. To players and staff. We work for the server and the community, not ourselves.

Don't excessively swear. It's childish and annoying. Help new players. Don't harass players or staff.
Staff, be professional.
Follow the simple rules laid out for you.
Own up to your mistakes. Take initiative. Be articulate!

The update will be released very soon. Droopy, iiz, and myself have all agreed that the endless toxicity needs to stop.
We will be cracking down. On everyone. Saying things like "NavaClash will always be toxic"
Or "Navalclash needs toxicity" means that you are part of the problem, and...
Hey all! Some of you might know already that we have a new sort of gamemode/event - DvZ!

We will host it at random times, when lots of players are on, but if you get ten people to join it will start a game automatically for you.

To join DvZ, simply type /server DvZ and you will be teleported there.

*If you join from NavalClash and not the hub, you will still have the resource pack. All you need to do is relog and join from the hub* ---> We are working on a fix for this.

Below, in as much detail as possible, is a guide on everything you will need to know to start out in DvZ.


Hey all! Today, NavalClash proudly presents the Creative Server.
Our creative server allows you to claim one (1)
huge
524*256*524 plot, and build whatever you want on it. You can create maps, build giant ships/shipyards, your imagination is the limit.
All users get unlimited worldedit.
This means you can use worldedit to help you build! The schematics are directly linked from navalclash, so you can load in any vehicles you have on nc directly to the creative plot server. *Due to safety reasons, you are unable to save schematics on the creative server*
Worried about crashing the server with worldedit? Don't! A special version of worldedit is installed that prevents all worldedit lag.
Users can claim their free plot with /plot auto. For more plot commands, including information on downloading your plot as a schematic file, type /plot help.
For those of you new to worldedit,
here
is a list of...
This patch includes some minor bugfixes/balance changes.
-Infamous "Cannon Spam" bug = fixed.
-Less-known-but-still-as-infamous "Uberclip" bug = fixed
-Cannons can no longer fire whilst inside a _safedock region.
-Bomb dropper capacity +increased from 2 to 6. (once Side uploads newest jar)
-Ship freezing patch still sailin' strong, whooo!
Additionally, I have a question to extend to the NC community:
Would you support the addition of a loading time for cannons, in order to extend naval encounters? And if so, should they stack depending on the amount of cannon barrels you have? For example: 4s for single cannons, 6s for double cannons, 8s for triple cannons, or something of that sort.
Vote in the poll above!
-iiz
Server Updates:
-Fixed spawn.
-Re-added old NBZ spawn.
-Re-added FreeShop.
-Re-added JuJu's trainer ship.
-New, fancier safedock buoy system.
-Re-added the Brewery plugin.
Texturepack Updates:
Faction Updates:
Moved back to Factions plugin.
Moved back to the Player Factions system.

Miscellaneous Updates:
-Robo's monument and Dave Mountain were made advertiser friendly.
-removed camkam
The alt detector will NOT ban you if you

- Use a vpn
- Have multiple players at the same house
- Have two normal accounts.

Alt detector WILL ban you if you are using mcleaks. (Or other similar single use accounts for nefarious purposes.)

On another note, I WILL BAN YOU if you:
- Use legitimate alts to gain plots or money